Food Sensitivity
See a Sample Report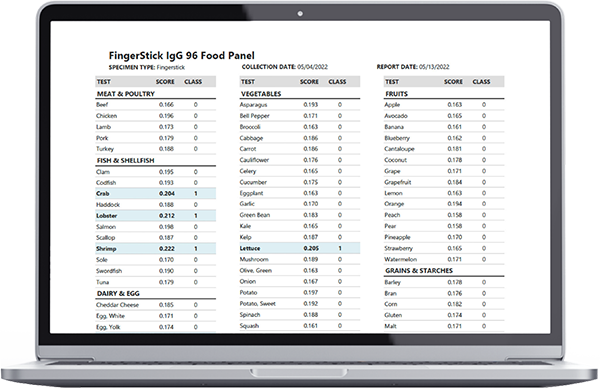 Food Sensitivity
96 Foods
Food is supposed to nourish you, not make you feel bloated or sick. Our food sensitivity test will help you identify any culprits that could be causing unwanted inflammation. By measuring your body's immune response to 96 foods, including dairy products, meat, grains, and more, the test will provide a roadmap to your ideal diet.
This Diagnostic Lab Tests For:
Dairy Sensitivities
Cheddar Cheese
Cottage Cheese
Yogurt
Cow Milk
Egg White
Mozzarella Cheese
Egg Yolk
Fruit Sensitivities
Apple
Lemon
Avocado
Orange
Banana
Peach
Blueberry
Pear
Cantaloupe
Pineapple
Coconut
Strawberry
Grape
Tomato
Grapefruit
Watermelon
Grain Sensitivities
Baker's Yeast
Gluten
Barley
Malt
Bran
Oats
Brewer's Yeast
Rye
Brown Rice
Wheat
Legume Sensitivities
Green Bean
Peanut
Green Pea
Soybean
Lima Bean
Meat Sensitivities
Beef
Pork
Chicken
Turkey
Lamb
Seafood Sensitivities
Clam
Salmon
Codfish
Scallop
Crab
Sole
Haddock
Swordfish
Lobster
Tuna
Prawn
Nut & Seed Sensitivities
Almond
Safflower
Black Walnut
Sesame
Cashew
Sunflower
Chia Seed
Vegetable Sensitivities
Asparagus
Green Olive
Bell Pepper
Kale
Broccoli
Kelp
Cabbage
Lettuce
Carrot
Mushroom
Cauliflower
Onion
Celery
Potato
Corn
Spinach
Cucumber
Squash
Eggplant
Sweet Potato
Herb, Spice & Beverage Sensitivities
Basil
Dill
Bay Leaf
Garlic
Black Pepper
Ginger
Black Tea
Honey
Cocoa
Mustard
Coffee
Oregano
Cola
Tarragon
Cinnamon
We're with you every step of the way.
Step 1
Complete the online health history and consent forms.
Step 2
Receive 1:1 care from your licensed health coach.
Step 3
Personalized treatments shipped right to your door.
Do you take insurance?
We do not accept insurance at this time. We do accept credit cards and HSA/FSA accounts.
I have labs from another clinician, can I use them?
If you have not been on hormonal support, the labs may be from the last 3-6 months. If on hormonal support, labs need to be within the last 90 days.
Can you help my partner too?
We can! Meet Blokes, the male version of Joi.