Comprehensive Panel
See a Sample Report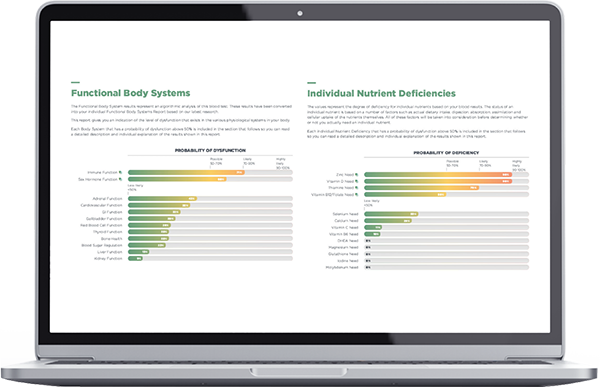 Comprehensive Panel
Analyzes 77 Biomarkers
This test is a great one-stop shop for all of your essential functions. This 77 marker diagnostic lab panel not only gives us a clear picture of your overall health and wellness but drills down into the nitty gritty so we can customize a proactive plan for optimization both physically and mentally. These results will inform just how much room for growth there is in your wellbeing—and how you can get back up to feeling 100%.
This Diagnostic Lab Tests For:
Metabolism & Weight Control
Glucose
VLDL Cholesterol Cal
A1C
LDL Chol Calc NIH
Cholesterol Total
Insulin
Triglycerides
C-Peptide
HDL Cholesterol
Cognition
Inflammation
Neutrophils
Eos Absolute
Lymphs
Baso Absolute
Monocytes
CRP
Eos
WBC
Basos
Homocysteine
Neutrophils Absolute
Antinuclear antibodies
Lymphs Absolute
ESR
Monocytes Absolute
Uric Acid
Bone & Muscle Health
Calcium
Immature Granulocytes
Vitamin D
Immature Grans (Abs)
Estradiol
Electrolyte & Fluid Balance
Sodium
Chloride
Potassium
Carbon Dioxide total
Strength & Endurance
Free testosterone
SHBG
Cortisol
DHEA sulfate
Creatine Kinase
Total testosterone
Prolactin
Liver Function & Toxicity
GGT
Bilitrubin Total
AST
Alkaline Phosphatase
Albumin
Globulin total
ALT
Oxygen Transfer & Blood Function
RBC
Platelets
Hemoglobin
Ferritin
Hematocrit
Iron
MCV
TIBC
MCH
Apo B
MCHC
RDW
Kidney Health
BUN
BUN/Creatninine Ratio
Creatine
Protein Total
EGFR
Thyroid Health
TSH
Thyroxine T4
T3 uptake
Free Thyroxine index
Thyroid antibodies
Triiodothyronine Free T3
Thyroxine Free T4
Menstrual Health
We're with you every step of the way.
Step 1
Complete the online health history and consent forms.
Step 2
Receive 1:1 care from your licensed health coach.
Step 3
Personalized treatments shipped right to your door
Do you take insurance?
We do not accept insurance at this time. We do accept credit cards and HSA/FSA accounts.
I have labs from another clinician, can I use them?
If you have not been on hormonal support, the labs may be from the last 3-6 months. If on hormonal support, labs need to be within the last 90 days.
Can you help my partner too?
We can! Meet Blokes, the male version of Joi.